It's with deep regret to inform the passing of Active Brother Timothy Brennan.
Please keep Brother Brennan and his family in your thoughts.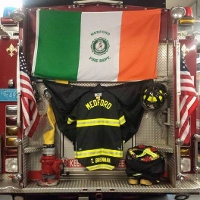 ** Medford Hydrant Location Map **
Click on the link below, bookmark the webpage through your browser, then add the bookmark to your homescreen(Smartphones and tablets)!

The messageboard has a few more details as to how this has transpired.
LINK ====> Medford Hydrants
The International Association of Fire Fighters honored those fallen in the last year, including 19 Granite Mountain Hotshots who were killed in the Yarnell Hill Fire, at the 2014 Fallen Fire Fighter Memorial Service.
Mark 0:50

Our own FF Joe Rosa Jr showing the utmost compassion

Mark 1:21

Our own fallen brother Arthur J. Moscufo Local 1032